The mobile rental LED display trailer is one of the most popular MOBO LED screen trailers. Many LED display distributors and event companies are looking for this movable rental screen solution.
We all know that the scale of the LED rental screen market is very huge.  
Those rental screens can be widely used for video conferences, live broadcast, musicals, opening ceremonies, wedding ceremonies, star performances, outdoor entertainment, product recommendations, hotel rentals and many other activities.
However, rental screens still have disadvantages when it comes with too much installation, transportation and tear downs. Many LED display leasing companies have to bear huge operating costs to set up rental LED screens. MOBO's mobile rental LED display trailer is a good solution to solve this problem.
What is a mobile rental LED display trailer?
Similar to other MOBO LED trailers, the rental LED display trailer consists of a customizable LED screen, trailer chassis, hydraulic lifting and rotating system, audio equipment and power supply system.
By assembling each rental LED display panel onto the steel screen frame, the mobile screen can be extremely simple to set up and operate. You only need to turn on the power supply, rotate and lift the screen through the buttons to quickly set up the rental LED display.
To give you a better understanding of the mobile rental LED screen trailer structure, we have prepared a video of the operation of this model.
Features: rental LED screen trailer VS. Rental LED screen
The technology of rental LED screen has been developing fast. Rental LED display products have made considerable progress in installation, structure, and material updating. Many LED screen factories have made massive efforts in fast installation and disassembly, rapid inspection, and thinner & lighter cabinets. The pixel pitch of rental LED displays is getting smaller and smaller. Good news is that the video display is getting clearer, and the cost has been reduced a lot.
However, some inherent problems in the application of rental LED displays still cannot be solved. If we compare MOBO's rental LED display trailer with common rental LED display, these advantages of MOBO rental LED display trailer will be much more clear.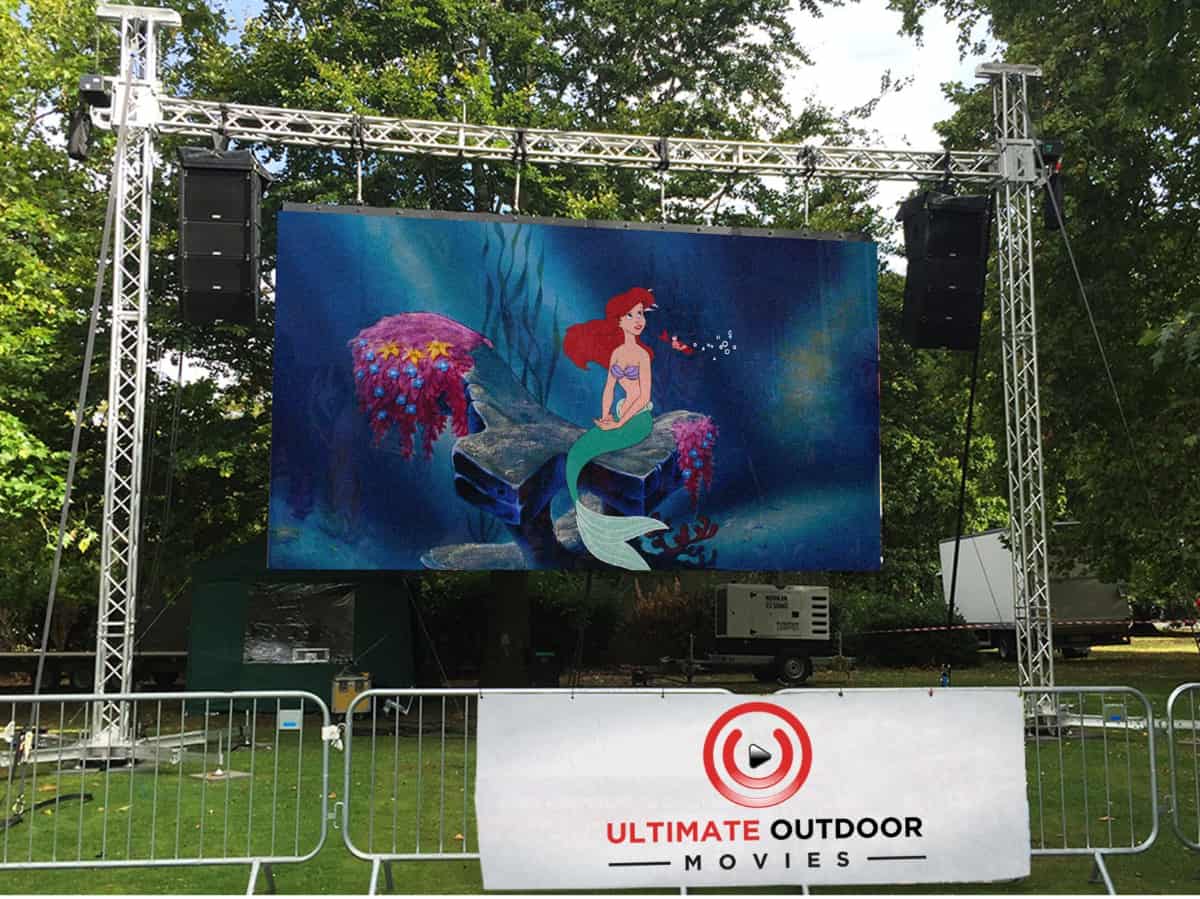 Screen install and disassemble
Rental LED screen
Necessary to build supporting frame such as a truss frame before installation
Need to open flight boxes and take out the rental LED display
Every rental LED display panel needs quick bolts to fasten and connect
Each rental LED screen panel must be connected by power cable and the signal cable
Screen panel maybe damaged during installation or process of tearing down
Rental LED Display Trailer
Unfold the support stabilizers of the LED display trailer
Lift the trailer screen and connect trailer screens with 4 large bolts
Connect three wires: power cord, network cable and audio cable
Fast installation within 15 mins
Rental LED screen
Take the 15sqm rental LED display for example,
8 flight cases for installation, each flight case is 0.7m*0.75m*1m
Need truss frame in transportation and construction
Need to disassemble the power cables, signal cables and fixture structures of each screen panel and put it into the flight case
Vans need to be arranged in advance to ship rental LED screen
Additional screen transportation costs will be charged if renting a van
Rental LED Screen Trailer
Unnecessary to disassemble the rental LED screen panel
Only 3 pieces of power cable, signal cable and audio cable need to be removed before transportation
Haul the trailer easily with the pickup truck/SUV
Free of damage to the screen during the disassembly and transportation process
Unnecessary to use truss frame to fix rental screen
Operating costs and efficiency
Rental display
Need to invest in supporting frame equipment such as trusses
Need more construction staffs or workers to build
It takes a long time to build and dismantle rental screen each time
The operating cost is high and less efficiency
Rental LED Display Trailer
Easy to drive and tow to the parking place
1 or 2 people can complete the trailer LED screen setting up work
Convenient installation within 15mins 
Trailer screen purchasing cost is not high
Install rental LED display on MOBO trailer
If you want to buy a rental LED billboard trailer, we have different ways to build it for you. Many customers keep asking a questions like this. We already have our own rental LED display, so can we install our own LED rental display on your trailer? Let us explain how to install your own rental screens on the MOBO mobile LED trailer.
Buy new rental LED screens in China and send to MOBO factory to install
Many customers buy various types of LED displays in China, and they have established long-term cooperative relationships with some LED display manufacturing factories. If you want a rental digital LED screen trailer, firstly you can buy a new LED display from this LED screen factory. The size of the rental trailer display screen needs to be determined according to your events. We usually recommend that you can buy a rental LED screen with a size of 10-25 square meters. A large size trailer rental LED display can help you win more projects.
Here is the main process to build your mobile rental LED screen trailer:
Determine the trailer screen size and model from the LED screen factory
Pay the deposit of the rental LED display from manufacturer with shipping cost to MOBO factory
Pay the deposit for MOBO LED display trailer without screen
After the rental LED screen has been produced, the LED screen factory will arrange the rental LED display to MOBO factory
MOBO factory will install the rental LED display you purchased on our trailer, and completes the trailer testing
Make the balance payment and MOBO will arrange the shipping of the mobile rental LED screen trailer from sea port to your country
Receiving your rental LED display trailer after custom clearance
We will keep in touch with your LED display factory to ensure that the rental LED screen you bought can be perfectly mounted on our MOBO trailer. We also have extensive experience in this kind of teamwork.
Build customized MOBO trailer to fit your rental LED screen at home
If you already have your own rental LED display, you do not have to buy a new one. You only need to install the existing rental LED display on MOBO trailer. We can also help you complete this customized design based on your rental screen size and structure.
In this way, you will save a large amount of the cost to buy a new screen. Since your rental LED display is in your own country instead of China, we need your assistance to complete the following process to ensure that your rental LED display can perfectly match our MOBO trailer.
Confirm the screen size you need
Send the cabinet drawings/layout of your rental LED display to MOBO
MOBO will make a screen frame drawing for you to confirm
You make the deposit toMOBO to start building the trailer
MOBO will ship the trailer structure to your country
You install your own rental LED screen on MOBO trailer and start working
MOBO trailer can build fully equipped rental LED screen trailer for you
We also work with many LED screen manufacturers in China to offer qualified trailer screens. If you have no idea that which rental LED screen is better, we can use our own rental LED screen suppliers to build a full set mobile rental LED screen trailer.
You only need to check the specifications of trailer LED screen and then make the deposit of total LED trailer cost to MOBO. We will offer on-stop solution for your customized LED trailer.
Either of the above building ways allows you to have a customized mobile rental display trailer. These rental screen trailers will bring new opportunities to your business, and help you continuously reduce operating costs and obtain more profits.
Mobile Rental LED display trailers VS. Steel cabinet LED display trailers
Rental LED screen trailers and steel cabinet digital LED display trailers are MOBO's hot models. Although they have the same trailer structure, the difference of screen cabinets also result in different characteristics.
Should I choose a common steel cabinet LED display trailer? Or should I choose to rental LED screen cabinet trailer? Next, we will analyze those characteristics of these two products, then you will know how to choose the suitable trailer LED screen for your business.
Compared with the steel cabinet LED display trailer, the rental screen trailer has following advantages:
Lighter weight. Take a 500mm×500mm die-cast aluminum cabinet for example. The weight of this rental screen cabinet is only 7.5kg. It is only 40%-50% of the steel cabinet LED display with same size.
Better heat dissipation. The die-cast aluminum structure is made of aluminum material, which is easy to dissipate heat. Whilethe heat of the LED display is evacuated in time, the entire rental LED screen trailer has lower failure rate in working condition.
More convenient The die-cast aluminum rental screen is composed of small size cabinets. Each cabinet has a separate receiving card and power supply. When the screen encounters a problem while working, you can quickly find the cabinet with problem. The wrong cabinet can be solved quickly by replacing with a new cabinet, which will save the time of troubleshooting.
Use your in stock rental screen for trailer. If you already have a die-cast aluminum rental LED display, you can install your rental LED screen on a customized LED trailer. In this way, you do not need to purchase a new LED display for trailer and only need to buy trailer chassis with hydraulics.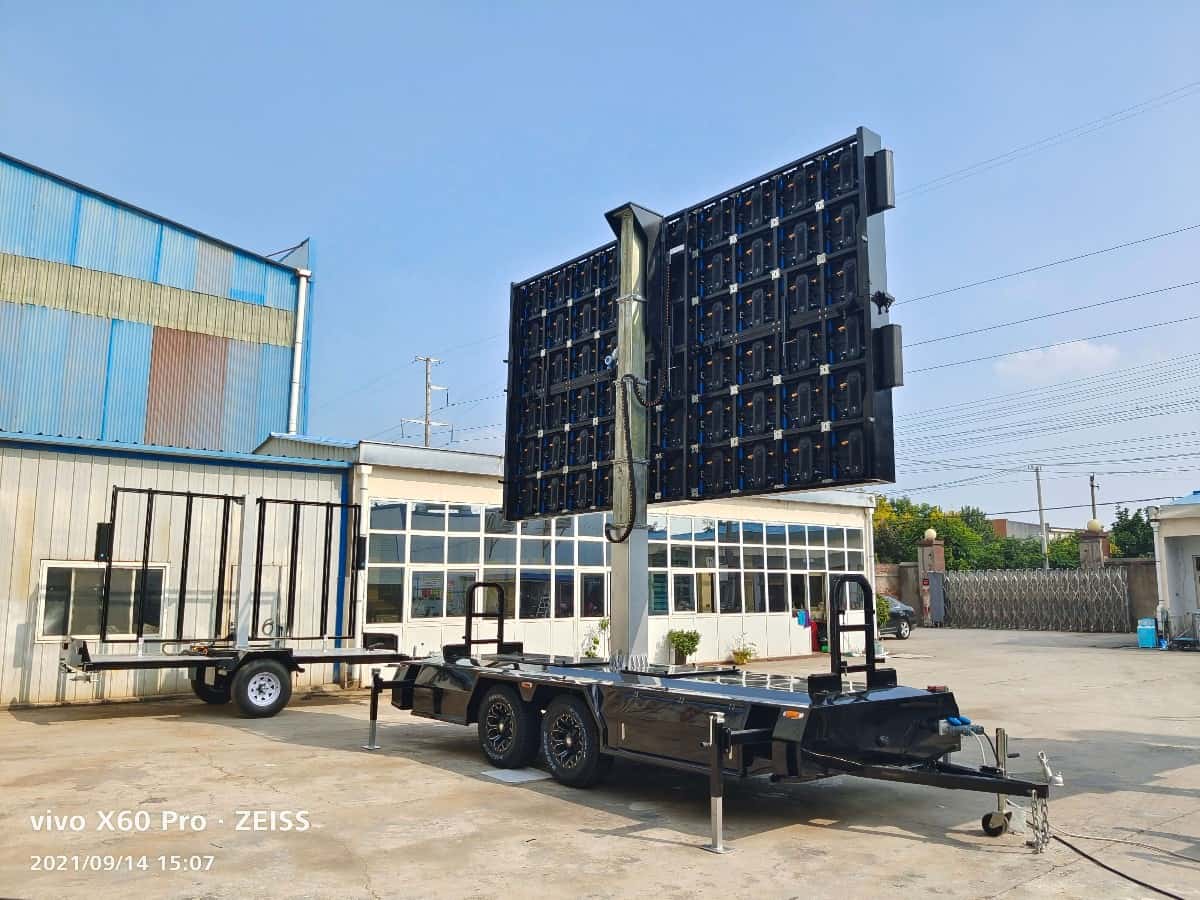 The advantages of steel cabinet LED display trailers are also very obvious:
Lower trailer LED screen price. The material cost of the common steel cabinet LED display is cheaper than the die-cast aluminum cabinet material. It is equipped with few receiving cards and power supply than the die-cast aluminum cabinet one. Thus the total purchasing cost will be less than rental LED screen trailer.
More stable trailer screen structure. The steel cabinet LED display on the MOBO trailer is a customized large-size steel cabinet. These cabinets can be welded to the trailer screen f Moreover, compared with the die-cast aluminum LED display cabinet, the steel/iron LED screen trailer requires fewer bolts to fasten.
Lower maintenance cost. Since the structure of the steel cabinet LED display is simpler, you can easily replace various LED screen accessories inside the trailer screen.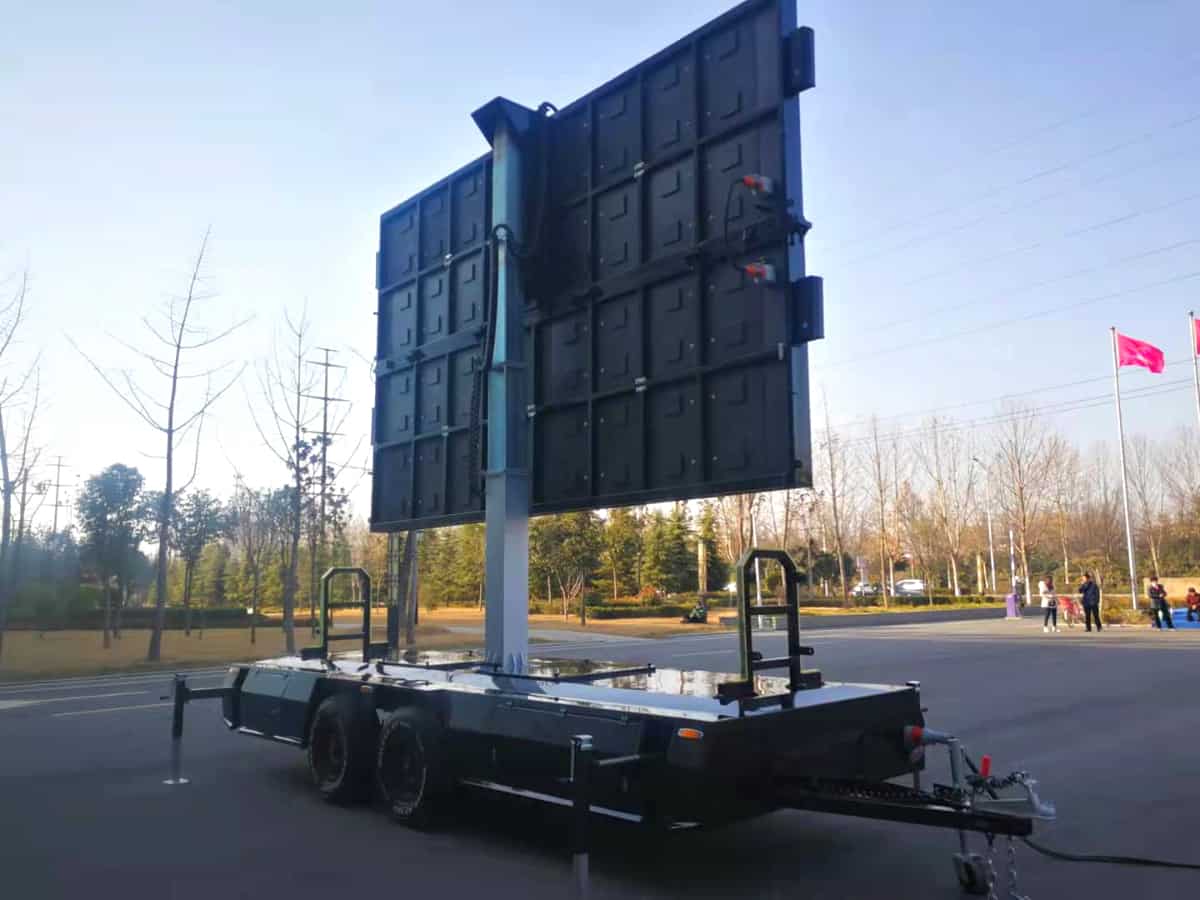 Unlike fixed outdoor LED screens, our customers purchase LED display trailers and put them into various events. More events they attended, more profits they will get. MOBO's mobile rental screen trailer can save your various operating costs, greatly reduce your work, and improve the efficiency to set up rental screens. Eventually you can earn more profits with our creative mobile screen trailers.
Would you like to build a mobile LED screen trailer for your business? If you already have your own rental LED display, feel free to contact us. We are committed to building a stable, durable, and affordable mobile rental screen trailer for you.